---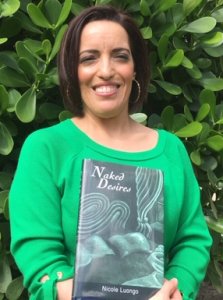 Nicole is a disability advocate dedicated to raising awareness for selective dorsal rhizotomy (SDR), a life-changing surgery for adults (like herself) and children with cerebral palsy.
In 2019, Nicole created the Go Green for CP campaign, and she became the first person ever (this was a solo endeavor) to secure at least one building, landmark, etc. in almost all 50 states to light up in green on National Cerebral Palsy Awareness Day (March 25) and on World CP Day (October 6), with lightings in three different countries.
World CP Day was the first to feature her campaign in Cerebral Palsy is Lighting Up the World. Go Green for CP was also featured nationally on ABC6 in Rhode Island, on news station's websites in different states, and in newspapers around the country.
In addition to being featured on NBC6 Miami, Nicole has been in myriad media including cerebralpalsy.org's One Woman's Cerebral Palsy Story Should Encourage Sharing Your Own, DISABILITIES by Daniel J. Vance — the nation's best-read weekly newspaper column about people with disabilities — Good News Network, the Sun-Sentinel, and more.
Her HuffPost article SDR: Life-Changing Surgery for Cerebral Palsy is referenced on numerous blogs and websites. Her work has also been published in The Mighty, Yahoo, and YooCan. She's also featured on Feedspot's "10 Cerebral Palsy Youtube Channels To Follow in 2020." Nicole has contributed to World CP Day's blog, and she's been a member of the World Cerebral Palsy Day Committee since 2016.
In 2014, Nicole created the What CP Looks Like Facebook page and hashtag #whatCPlookslike to change perceptions, raise awareness for cerebral palsy and give a voice to people thriving with disabilities, many of whom often feel invisible.
Nicole Luongo is the author of Naked Desires, a poetry book for everyone who is searching for love, delighting in love, or hoping to understand love.
In her free time, Nicole enjoys baking, cooking in her two Instant Pots, watching Hallmark movies, and working out.
---
Connect with Nicole
Read more of Nicole's work on 

HuffPost,

 The Mighty, Yahoo + more

here

.
Watch more of her 

SDR journey

on

YouTube

(Nicole Luongo Channel)

.
---