Here's the latest SDR surgery update! On March 29, 2013, I had Selective Dorsal Rhizotomy (SDR), a life-changing surgery that will drastically reduce and/or remove the tightness in my legs caused by spastic diplegia, the most common type of cerebral palsy. I found out about SDR last August. After getting the green light in October regarding my candidacy, I was determined to have my surgery performed by Dr. T.S. Park, the world-renowned Neurosurgeon acclaimed for refining the procedure. For the past twenty-five years, he has drastically changed the lives of over 2,500 children (approximately 2,436) and adults (I'm number 63 0r 64) affected by cerebral palsy.
How My SDR Journey Started
My SDR journey started with the power of possibility. I had to decide whether or not SDR was the right choice for me. Educating myself, I ferociously read about the surgery. In addition, I communicated with many of Dr. Park's patients about their experience and results. I weighed the benefits and the risks. The overwhelmingly positive feedback coupled with Dr. Park's 100% success rate made this an easy decision. I had to go for it! Unfortunately, neither insurance coverage nor time was on my side. Dr. Park rarely operates on adults over the age of 40; I will be 40 in June. My Medicare HMO would not approve SDR outside the state of Florida. I went on a wild goose chase to find a loophole which would allow me to have the surgery in St. Louis with the unparalleled Dr. Park.
Insurance Issues
I contacted a doctor at Miami Children's Hospital who was covered under my insurance. I wanted answers to basic questions before making an appointment. How many SDR surgeries has he done on adults? What were the results? What is his technique? I found out that he has done hundreds of SDR surgeries but only a few on adults. The procedures he has done on adults have only been in cases where caring for the patient was an extreme hardship. He feels SDR is not a good procedure for adults that can walk.
I refused to settle. Dr. Park is the best in the world. The countless before/after videos of his patients speak for themselves. Children who could not walk prior to SDR are now walking. The adults I've spoken to who have had SDR with Dr. Park feel SDR this is the best option (as opposed to Baclofen or orthopedic surgeries which do not eliminate spasticity) for us.
Why Dr. Park is Simply the Best at SDR
Dr. Park has performed over 3,000 SDR surgeries. His surgical technique is preferred for the following reasons:
Reduced risk of spinal deformities in later years
Decreased post-rhizotomy motor weakness
Reduced hip flexor spasticity by sectioning the first lumbar dorsal root
Shorter-term, less intense back pain
Earlier resumption of vigorous physical therapy
Fighting + Fundraising
After months of trying to figure out and understand my insurance options, I threw my hands up and switched from my HMO to original Medicare, an insurance Dr. Park accepted. I also have FL Medicaid, which I hoped to apply to my medical bills. Unfortunately, FL Medicaid will most likely deny me because they do not approve services (other than in cases of emergency) outside the state of Florida. Because I would not find out how much, if any, Medicare and/or Medicaid would cover until after the surgery, I started a fundraiser to raise the $50,000+ needed for the operation and associated costs. To date, I've raised (and am still accepting donations) $4,500 thanks to the kindness of many people, most of whom I've never met. I am forever grateful for your donations and support.
SDR Surgery Update
It's been almost a month since my surgery. The difference in my gait was immediate. I'm walking on sunshine with excitement! Thank you to my primary care physicians, Dr. Luis Martinez – who started the process – and his partner, Dr. Jarrod Frydman, for being on board (most physicians are not) with my desire to have SDR. Thank you to my oldest brother Anthony for traveling to St. Louis with me. I could not have done it without him. As for Dr. Park – well, there are not enough words to express how thankful I am for his healing hands and humble demeanor. Thank you to the Selective Dorsal Rhizotomy – St. Louis Children's Hospital Facebook group for the wealth of help and information. I'm proud to be a member of such a wonderful family! This is a great place to start if you want more information about SDR with Dr. Park.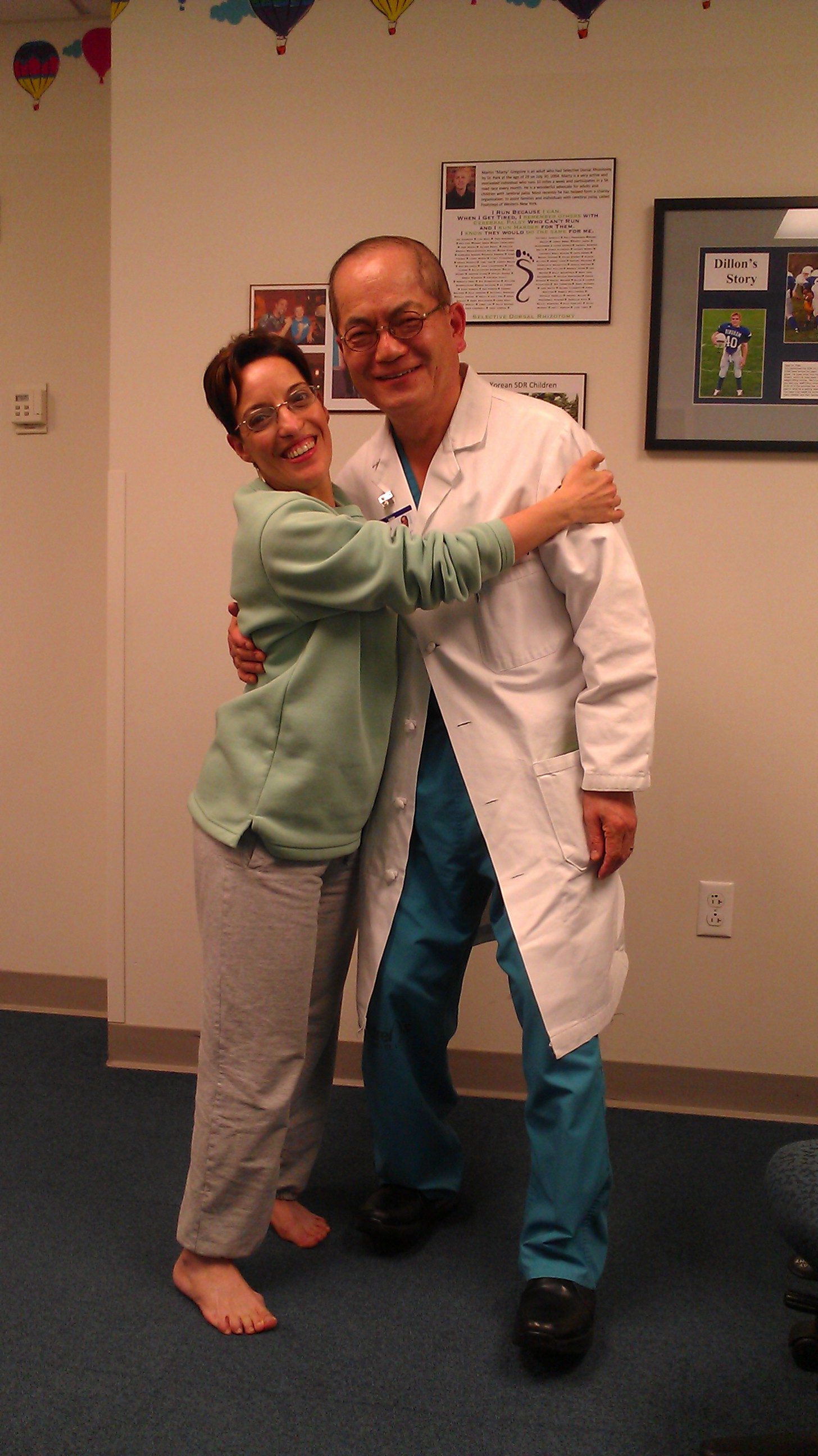 SDR Surgery Update Before + After
This how I walked BEFORE SDR:
Here is how I walk AFTER SDR:
And don't it feel GOOD! I will continue to see improvement with physical therapy 3X/week for four months. Then, it will be time for my follow-up visit with Dr. Park. I am excited to see what I will be able to do in the future. Dr. Park predicted that I will be exercising and walking with greater ease/less effort and riding a bike, the number one goal on my post-SDR bucket list! Stay tuned for more SDR surgery update videos!